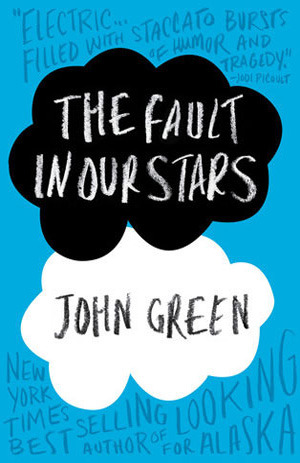 Title : The Fault in Our Stars
Author : John Green (2012)
'Sometimes it seems the universe wants to be noticed.'
Hazel Grace Lancaster, remaja enam belas tahun yang survive dari kanker tiroid tetapi tidak dari metastasis parunya, harus menjalani hidupnya dengan tabung oksigen sepanjang waktu, karena parunya tak berfungsi sempurna. Hazel lebih menyukai kesendiriannya; menonton televisi, membaca buku, dan segala kegiatan yang tidak mengharuskannya berhubungan dengan orang lain. Hanya ada tiga orang yang dianggap sahabat oleh Hazel, kedua orang tuanya, dan seorang penulis bernama Peter Van Houten, yang bukunya—An Imperial Affliction—menjadi favoritnya dan dibacanya berulang kali, buku yang dianggapnya sangat memahami kondisinya. Bagaimanapun, orang tuanya menginginkan putrinya menjalani hidup normal, sehingga Hazel diikutkan dalam Support Group.
Hidup Hazel berubah saat temannya di Support Group, Isaac, membawa Augustus Waters dalam suatu sesi. Sebuah ketertarikan instan muncul dengan alasan klasik, tetapi hubungan mereka berjalan dengan menarik. Hazel dan Augustus menemukan satu sama lain, seseorang seusia mereka, dengan kehidupan kanker yang mereka alami, dengan pola berpikir dan cara menghadapi yang hampir sama. Namun, Hazel yang menyadari bahwa usianya sudah merupakan keajaiban, merasa tidak tega untuk memberi harapan untuk Augustus yang sudah mengalami remisi.
"Oh, I wouldn't mind, Hazel Grace. It would be a privilege to have my heart broken by you."
Meski begitu, ternyata masing-masing tak bisa membohongi perasaannya. Hazel merasa nyaman dengan Augustus, bahkan laki-laki itu memberinya jalan untuk bertemu dengan penulis favoritnya di Amsterdam. Perjalanan mereka pun menjadi sebuah kisah baru dalam hubungan mereka. Bukan sesuatu yang mereka harapkan, bukan pula serba membahagiakan, katakanlah…sebuah titik balik.
You have a choice in this world, I believe, about how to tell sad stories, and we made the funny choice ….
Sebenarnya, keinginan untuk membaca buku ini sudah terbersit sejak buku ini muncul dan menjadi fenomena. Kisahnya menjanjikan, begitu pula penulisnya—yang meski saya belum pernah membaca karyanya, sudah saya dengar reputasinya dalam dunia literasi. Penulis mengambil double-degree di bidang English dan Religious, seorang vlogger buku (!), ditambah, ternyata dia juga pernah bekerja di sebuah rumah sakit anak, terutama untuk penyakit yang mengancam nyawa. Saya percaya jika ada orang yang memenuhi kualifikasi untuk menulis tentang tema ini, dia adalah salah satunya. Tetapi ada satu hal yang membuat saya begitu lama memutuskan membaca ini: genrenya. Dan setelah akhirnya memutuskan untuk membaca saat ini, saya tidak kecewa.
Hazel dan Augustus adalah dua remaja yang tumbuh bersama kanker, yang menjadikan hidup mereka berbeda dari remaja kebanyakan. Dalam hal ini, mereka menolak untuk meratapi keadaan mereka, tetapi juga tak menyangkal kondisi mereka, mereka hidup dengan kekurangan yang ada, apa adanya. Buku ini mengandung banyak pemikiran filosofis yang sepertinya lahir dari remaja yang menghabiskan hidupnya dengan buku dan kesendirian. Saya suka dengan humor sarkastik yang bertebaran di buku ini, pemikiran dan bahasa tingkat tinggi yang menjadikan kedua remaja ini 'aneh' dan cocok dalam keanehan satu sama lain.
"That's the thing about pain," Augustus said, and then glanced back at me. "It demands to be felt."
… I was living with cancer not dying of it, that I mustn't let it kill me before it kills me, ….
Buku ini diceritakan dalam sudut pandang Hazel sebagai orang pertama. Dengan begitu, penulis dapat secara leluasa menyatakan pemikiran Hazel, perasaan seorang penderita kanker, yang tidak dipungkiri lagi pasti ingin menjalani hidup senormal mungkin. Ada beberapa bagian dalam buku ini yang terasa emosional, tetapi secara umum, suasana buku ini adalah emosi yang ditekan, ditekan oleh tahun-tahun yang dijalani Hazel Grace, tahun-tahun sekaratnya.
Whenever you read a cancer booklet or website or whatever, they always list depression among the side effects of cancer. But, in fact, depression is not a side effect of cancer. Depression is a side effect of dying. (Cancer is also a side effect of dying. Almost everything is, really.)
Kisah cinta dalam buku ini tidak spesial, cenderung klise (dan benar-benar not my cup of tea), tetapi saya tidak menyangkal bahwa karakter Augustus sangat menarik. Di luar penampilan fisik yang digambarkan sempurna (selain kakinya tentunya), Augustus adalah seorang perayu ulung, dan tanpa perlu berusaha keras, sifatnya sendiri—dengan menjadi dirinya sendiri—sudah bisa membuat gadis mana pun takluk. Dengan mengingat usia mereka, saya memang tidak mengharapkan sebuah kisah cinta yang 'lebih' dari ini. Dengan berlalunya waktu—jika mereka atau salah satu dari mereka hidup sampai dewasa—akan ada kisah cinta yang lain, akan ada jawaban bagi sebuah cinta sejati, tetapi bukan di buku ini. Buku ini adalah bagaimana hidup dalam masa remaja, masa seseorang ingin mencoba melakukan apa yang bisa mereka lakukan, apalagi saat tak ada jaminan bahwa ada hari esok untuk melakukannya.
"Placing a patient—one of the most promising Phalanxifor survivors, no less—an eight-hour flight from the only physicians intimately familiar with her case? That's a recipe for disaster."
Dr. Maria shrugged. "It would increase some risks," she acknowledged, but then turned to me and said, "But it's your life."
Meski saya (seharusnya) sudah tahu mengenai kanker dan segala yang mengikutinya, tetap ada beberapa hal baru yang saya dapatkan di sini, hal-hal yang hanya bisa didapatkan dengan sebuah hubungan personal alih-alih hubungan profesional.
"What am I at war with? My cancer. And what is my cancer? My cancer is me. The tumors are made of me. They're made of me as surely as my brain and my heart are made of me. It is a civil war, Hazel Grace, with a predetermined winner."
Satu hal lagi yang membuat saya salut pada penulis adalah bahwa judul buku ini, di luar dugaan saya, bukan sekadar 'tempelan'. Penulis tidak hanya membawa-bawa kutipan Shakespeare atau penulis lain untuk terlihat keren, tetapi dia memasukkan jiwa mereka dalam tulisannya, bahkan mengulasnya dan mengkritisinya. Setiap kutipan buku atau puisi memiliki kisahnya sendiri, yang memegang peranan penting dalam pemikiran karakter-karakter dalam buku ini.
4/5 bintang untuk Phalanxifor dan kaki palsu.
The real heroes anyway aren't the people doing things; the real heroes are the people NOTICING things, paying attention.
Review #23 for Lucky No.14 Reading Challenge category Not My Cup of Tea (by this, I've made this author an exception)