Hari keempat Book Kaleidoscope adalah freebie day. Jika di hari pertama saya memilih Top Five Male Characters, maka di hari keempat saya akan menampilkan Top Five Female Characters. Ini dia wanita-wanita hebat dalam bacaan saya tahun ini:
5. Nyai Ontosoroh (Bumi Manusia by Pramoedya Ananta Toer)
Sebagai seorang Nyai, kepribadian dan kecerdasannya jauh melebihi status sosialnya. Dia tidak ingin kalah dengan pandangan masyarakat, tidak mau menyerah dengan kebiasaan dan budaya, serta tak merelakan kebahagiaannya ditentukan oleh orang lain. Wanita dan pribumi, tetapi dia fasih berbahasa Belanda, mahir dalam berhitung dan ulet dalam manajemen. Meski memiliki masa lalu yang kelam dengan kedua orang tuanya, tak lepas dari keputusan-keputusan salah, Nyai Ontosoroh adalah sosok wanita cerdas yang patut diapresiasi.
4. Louisa Bounderby née Gradgrind (Hard Times by Charles Dickens)
Louisa bisa dikatakan memiliki jiwa pemberontak, tetapi dia tidak memiliki kemampuan untuk memberontak. Jika sesuatu yang tidak sesuai dengan hati nuraninya harus dilakukannya demi kepentingan orang yang disayanginya, dia tidak keberatan untuk menderita seorang diri. Dia juga setia pada apa yang merupakan komitmennya, bahkan meski harus kehilangan kebahagiaannya sendiri. Walau bukan karakter yang cerdas (apalagi bila dibandingkan dengan Sissy), Louisa menarik karena kemampuannya menahan diri.
3. Lady Galadriel (The Fellowship of the Ring by J. R. R. Tolkien)
Buku ini sedikit menampilkan karakter wanita, tetapi dari keseluruhan karakter yang ada, wanita inilah yang terkuat. Peri ini bisa memasuki kedalaman jiwa dan hasrat orang/makhluk lain, serta membaca pikiran mereka. Lady Galadriel juga merupakan sosok yang paling dominan di negerinya, baik secara kepribadian, peran, maupun penampilan fisik.
2. Sophie Hatter (Howl's Moving Castle by Diana Wynne Jones)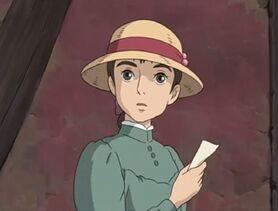 Karakter Sophie cukup menyenangkan. Meski mendapat kutukan dari penyihir, dia tetap ceria dan menikmati hidup dengan caranya sendiri. Keras kepala dan tangguh, hal yang menyebabkannya mampu bertahan hidup dan menemukan jalan keluar dari kutukannya.
1. Robin Ellacott (The Cuckoo's Calling by Robert Galbraith)
Cekatan dan praktis, itulah kualitas yang paling penting dari seorang sekretaris. Tetapi tak hanya itu yang dimiliki Robin, dia juga bisa membawa diri, menghargai orang lain–terutama bosnya, Cormoran, yang sangat butuh privasi, juga memiliki inisiatif dan kreativitas yang menunjang pekerjaannya.
Itu dia lima karakter wanita pilihan saya. Bagi kategori pilihan kalian di sini.