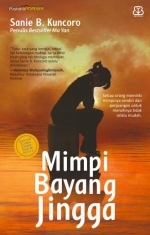 Judul : Mimpi Bayang Jingga
Penulis : Sanie B. Kuncoro
Penyunting : Imam Risdiyanto
Penerbit : Bentang Pustaka
Edisi : Cetakan pertama, April 2009
Format : Paperback, vi + 214 halaman
Mimpi Bayang Jingga adalah kumpulan tiga kisah tentang cinta, mimpi, ego, perpisahan, dan kehilangan. Kisah pertama, The Desert Dreams berkisah tentang perselingkuhan seorang suami yang merasakan kedataran dalam rumah tangganya. Namun, cinta itu egois, cinta itu ingin memiliki, dan cinta tak ingin dibagi. Jingga berkisah tentang seorang wanita yang menemukan 'jalan pintas' untuk mimpi-mimpinya, cinta yang memiliki segalanya, kecuali satu yang dianggap paling penting bagi seorang wanita, komitmen. Mimpi Bayang memilih gaya unik untuk kisahnya, agak supranatural, dan menunjukkan bahwa ego dan cinta sulit untuk dipersatukan. Pada akhirnya, mungkin seseorang perlu menilik kembali, cinta seperti apa yang dimilikinya, dan apakah itu sesuai dengan yang seharusnya, ataukah mesti ada jalan lain yang dipilih untuk cinta.
Ada nyeri meremang pada sudut benakku. Dengan sakit kutemukan kenyataan betapa aku telah kehilangan sebuah perasaan yang pernah kumiliki terhadapnya. Sebuah kehilangan yang kemudian memampukanku untuk 'melihat'nya. (hal.55)
Ketiga cerita ini tidak saling berhubungan, tetapi memiliki benang merah tema yang serupa. Daya tarik dari karya penulis adalah kalimat-kalimat indah yang tersusun dalam paragraf-paragrafnya. Gaya penulisan ini lebih kentara pada The Desert Dreams karena penulis menggunakan metafora-metafora untuk menyembunyikan kejadian yang sesungguhnya, untuk memberikan efek kejutan bagi pembaca. Sedangkan pada Jingga dan Mimpi Bayang, penulis banyak menggunakan dialog yang menegaskan karakter dan pola berpikir tokoh-tokohnya.
Kisahnya sendiri sebenarnya menarik, terlepas dari kisah cintanya, saya menikmati plot dan alur ceritanya, terutama Mimpi Bayang yang diramu dengan apik dan menarik. Saya tidak bisa menebak ke mana arah kisah-kisah ini. Saya agak terganggu dengan ending Jingga yang terkesan sedikit 'maksa', atau mungkin hanya terburu-buru.
Selain romansa, penulis juga menyisipkan berbagai isu sosial, politik, ekonomi, dan sebagainya, yang memperkaya kisahnya hingga tak melulu soal cinta. Juga nilai persahabatan yang membuat saya berpikir ulang tentang beberapa sikap saya dan orang-orang di sekitar saya selama ini. Agak sulit untuk setuju dengan beberapa ide penulis di sini, tetapi dalam konteks kisah, memang sulit dibantah.
Tapi begitulah, mahasiswa dengan segala kemudaannya. Merasa telah melakukan hal-hal besar justru karena ketidaksadaran bahwa begitu jauh yang masih harus dipahami di dasar kehidupan nun jauh di sana. Tanpa menyadari bahwa permukaan kehidupan sama sekali bukanlah representasi yang ada di dalamnya, justru lebih merupakan kamuflase serupa telaga yang menyimpan kedalaman tak terduga. (hal.36-37)
3/5 bintang untuk 3 cara mengisahkan cinta segitiga.
Review #39 for Lucky No.15 Reading Challenge category It's Been There Forever