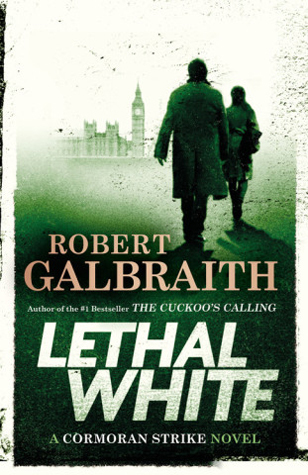 Title : Lethal White (Cormoran Strike #4)
Author : Robert Galbraith (2018)
Publisher : Mulholland Books / Little, Brown and Company
Edition : First edition, September 2018
Format : Large paperback, 650 pages
Setelah kasus Shacklewell Ripper yang diceritakan di buku ketiga, kantor detektif Cormoran Strike kebanjiran pekerjaan. Hal ini membantu Cormoran dan Robin menjaga keberlangsungan neraca yang seimbang agar bisa bekerja dengan tenang, tapi di sisi lain, pemberitaan media menyulitkan pekerjaan mereka yang seringkali harus menyamar dan bersembunyi dari sasaran mereka. Kedua partner ini harus selektif memilih klien yang sesuai dengan visi dan misi mereka, sembari tetap memperhatikan bayaran yang prospektif. Karena alasan-alasan ini, mereka perlu dan mampu mempekerjakan mitra detektif lain, yang bisa membantu terutama dalam masalah penyamaran.
Suatu hari, Cormoran kedatangan seorang dengan gangguan jiwa bernama Billy, yang mengungkit sesuatu mengenai pembunuhan di masa kecilnya. Kunjungan singkat ini mengganggu pikiran Cormoran, sehingga dia memutuskan menggali lebih lanjut, meski petunjuk yang ditinggalkan sangat minim. Penelusuran Strike membawanya ke Jimmy Knight, seorang aktivis kiri. Secara kebetulan (atau bukan kebetulan) di waktu yang berdekatan, dia diminta Jasper Chiswell—Menteri Kebudayaan—untuk menangani pemerasan yang dialaminya. Kasus ini berhubungan dengan Jimmy Knight dan suami dari Menteri Olahraga. Di samping bayaran yang tinggi, kasus ini juga membawanya ke kasus Billy.
"One cannot be held accountable for unintended consequences." (p.102)
Kali ini Robin mendapat porsi besar dalam pekerjaan ini. Dia ditugaskan menyamar ke Istana Westminster sebagai pegawai magang di kantor Chiswell. Sesuai dengan janji Cormoran sebelumnya, bahwa Robin akan diposisikan sebagai partner, bukan hanya sekretaris. Meski mengandung risiko, pekerjaan semacam ini memang selalu diimpikan Robin. Bahkan walau saat ini kondisi mentalnya masih kurang baik, akibat trauma yang dialaminya pada kasus Shacklewell Ripper.
Perlahan tapi pasti, tim detektif Strike mengupas kasus yang rumit ini, yang berujung, berpangkal, dan berjalin dengan banyak kejadian di masa lalu, orang-orang yang pernah mereka kenal sebelumnya (termasuk Charlotte), rahasia-rahasia yang tak ingin diungkapkan, dan kasus pembunuhan yang baru. Dengan ketegangan, tantangan, bahaya, kejutan, seperti umumnya cerita detektif (yang bagi Cormoran termasuk beberapa kali gangguan di kakinya).
"The client doesn't get to tell me what I can and can't investigate. Unless you want the whole truth, I'm not your man."
"You are, I know you're the best, that's why Papa hired you, and that's why I want you."
"Then you'll need to answer questions when I ask them, instead of telling me what does and doesn't matter."
(p.313)
Saya tidak menyangkal bahwa salah satu daya tarik dari serial ini adalah bunga-bunga hubungan Cormoran dan Robin. Hubungan semacam ini mungkin cukup klise di buku roman, tetapi penulis berhasil meramunya menjadi sesuatu yang sangat diinginkan pembaca. Chemistry kedua partner ini begitu kuat, sehingga tidak bisa tidak saya merestui hubungan ini. Beberapa bagian cukup membuat gemas, tetapi karena status Robin sudah menjadi istri Matthew, tentunya kita perlu bersabar untuk mencapai ke tingkat yang lebih.
Hubungan Robin dan Matthew sejak pembukaan buku ini sudah tak harmonis lagi—agak terlambat karena kejadiannya di hari pernikahan mereka, tepat saat itu kebenaran tentang Matthew terbuka di hadapan Robin. Kejadian di hari pernikahan itu buat saya sudah menjadi sebuah kisah tersendiri, karena begitu banyak emosi yang terlibat dan kemungkinan yang bisa mengubah kehidupan mereka—meski akhirnya tak terjadi. Bagian prolog ini saja, sukses membuat saya terhenyak dan meninggalkan beragam perasaan.
"Pretending you're OK when you aren't isn't strength." (p.548)
Bagian lain yang menjadi favorit saya adalah saat Cormoran merasakan bahwa dirinya memiliki dan merupakan bagian dari sebuah keluarga, keluarga yang benar-benar memiliki hubungan darah dengannya. Di bagian ini, sisi manusia Strike yang selama ini terbalut dalam kemasan profesional, luruh menampakkan emosi yang mendalam.
Masalah keluarga juga hadir pada kasus Chiswell yang ditanganinya, yang sedikit banyak membuatnya menghubung-hubungkan dengan dirinya sendiri. Terlebih hubungan kekerabatan di keluarga Chiswell cukup rumit, dengan adanya affair, pernikahan kembali, dan kematian.
Selain itu, urusan keluarga ternyata cukup membebani tugas para detektif yang dituntut bekerja di luar jam kerja normal. Setahu saya, kebanyakan karakter detektif fiksi memang jarang yang memiliki hubungan serius ke orang lain, selain partner kerjanya. Hal ini cukup disorot, tentang hubungan asmara Cormoran yang tidak berlangsung baik, hambatan karena mitra-mitranya sudah berkeluarga.
(…) perhaps the only difference between the two of them was that Strike's mother had live long enough, and loved him well enough, to stop him breaking when life threw terrible things at him. (p.505)
Kelebihan dari penulis yang satu ini adalah caranya meramu sebuah kisah yang mengandung paket lengkap. Kita tidak hanya mendapatkan kisah detektif yang rumit, di buku ini kita juga mendapatkan kisah cinta, kisah skandal di pemerintahan, kehidupan kaum kiri dan anarkis, beberapa sudut pandang mengenai kesehatan jiwa, pelecehan seksual, isu politik dan sosial, diskriminasi ras, dan hubungan yang tidak sehat. Hal-hal ini muncul dalam kehidupan pribadi detektif kita, maupun kasus yang ditanganinya. Isu-isu terkait perempuan juga masih kuat disuarakan.
"…. Ultimate responsibility always lies with the woman, who should have stopped it, who should have acted, who must have known. Your failings are really our failings, aren't they? Because the proper role of the woman is carer, and there's nothing lower in this whole world than a bad mother." (p.479)
Di buku sebelumnya, penulis menggunakan lagu-lagu sebuah band untuk menandai babnya, kali ini dia menggunakan kutipan drama Rosmersholm karya Henrik Ibsen. Dengan latar waktu di sekitar saat Olimpiade London 2012, kita juga mendapat gambaran persiapan Olimpiade tersebut, baik dari dalam kementerian, maupun terkait antusiasme warga Inggris secara umum. Trivia lain yang bisa didapat adalah seputar kuda—yang berhubungan dengan hobi istri Chiswell, yang juga menjadi bagian penting dan petunjuk dari misteri yang disimpan. Termasuk menjadi judul buku ini.
Lethal white syndrome. (…). Pure white foal, seems healthy when it's born, but defective bowel. Can't pass feces. (…). They can't survive, lethal whites. (p.355)
Secara keseluruhan, perjalanan yang ditawarkan buku ini seperti roller coaster, suatu saat kita naik perlahan, lalu ada ketegangan dan emosi, luapan kegembiraan di saat yang lain, dan berakhir dengan kehausan akan petualangan berikutnya. Meski begitu, bagi saya kesan yang ditimbulkan buku ini tak sekuat buku ketiganya—yang merupakan favorit saya. Mungkin karena porsinya cukup besar, begitu banyak hal yang terjadi, sehingga fokus saya pun harus dibagi-bagi.
It was a glorious thing, to be given hope, when all had seemed lost. (p.236)